Trails Beyond team comprises of like – minded people with extensive travel experience around the globe, an amalgam of people from different backgrounds who share the same travel passion and ethos, values and vision and affection about Greece.
For us traveling is a life – enriching experience, a meaningful cultural exchange with the local people at the places we visit, while at the same time we strive for minimizing our environmental footprint and respecting the host communities.
Our team members and associates include experts in the tourism industry, athletes and experienced activity instructors, professional licensed guides, young specialists with fresh and innovative ideas and senior professionals with years of experience, all dedicated to deliver you supreme services of top quality and safety standards.
In Trails Beyond, it's all about YOU and the experience you gain. We look forward to welcoming you in one of our explorations and showing you Greece's hidden treasures!
Meet our team
Danae Tsadila | Founder & Managing Director
Danae is a native Athenian, born in 1986. Her educational background begins with a Bachelor in Business Administration Management (Athens University of Economics and Business), followed by a Master's degree in Tourism Destination Management (NHTV University of Applied Sciences, Breda, The Netherlands). Having gained a valuable knowledge in the luxury tourism industry during her 6 years of working experience as an Air Charter Coordinator in the business aviation sector in Greece, Danae decided to follow her dream and devote herself in the responsible tourism. She conducted fieldwork research on major tourism issues and trends in Sydney (Australia), Chiang Mai (Thailand) and Bali (Indonesia), as well as individual research on ecotourism in Greece. She also holds three certificates in aviation security, safety and management systems.
Danae's travel bug took her to 30 countries around 4 continents, accumulating magnificent memories such as rafting in Manso Rio (Patagonia, Argentina), hiking in Tongariro National Park (New Zealand), kayaking in Sri Lanka, partaking in wood handcrafting in Myanmar and traveling on a boat through Tonga islands in the Pacific Ocean.
From a very young age, Danae has been also involved in different sports, such as swimming, traditional folklore dances, windsurf, cycling, hiking, scuba diving, kayaking and sailing. She holds a PADI Open Water Diver license, as well as the Skipper's license in Offshore sailing.
Being a passionate traveler herself, with special interests in meaningful cultural exchanges, international issues in sustainable tourism development, sports and adventure, Danae invites you to explore and experience Greece beyond the beaten path…
George Dimitrakopoulos | Adventure Travel Operations
George was born in 1985 in Melbourne, Australia and grew up in Athens. His educational background begins with a Bachelor of Engineering in Civil Engineering in University of Brighton in England and followed by a Master's Degree in Advanced Structural Engineering at Napier University of Edinburgh in Scotland.
From early stages of life, George got involved, participated and finally evolved his personality within a team environment as an athlete in a competitive level for more than 8 years in swimming, in water polo and in sailing (Optimist and Laser) and was recently licensed as a Skipper in Offshore Sailing.
As a Scout leader, he is been through different outdoor activities, such as hiking, climbing, kayaking, rafting, bungee jumping, mountain/road cycling, skating, skiing, snowboarding, surfing and more, as he is always planning the next adventurous trip.
He is definitely a passionate traveler, keen for new experiences, adventures and explorations in nature, showing a great respect for the environment and with a special interest in extreme sports and outdoor activities.
On 2015, George decided to change his path career by combining his passions and his experiences with Danae and Jeannie.  The Greek culture, the hospitality, the sun along with the breathtaking landscapes will be your reason to follow his trail for your next adventure..
Jeannie Dimitrakopoulou | Business Development & Operations Coordinator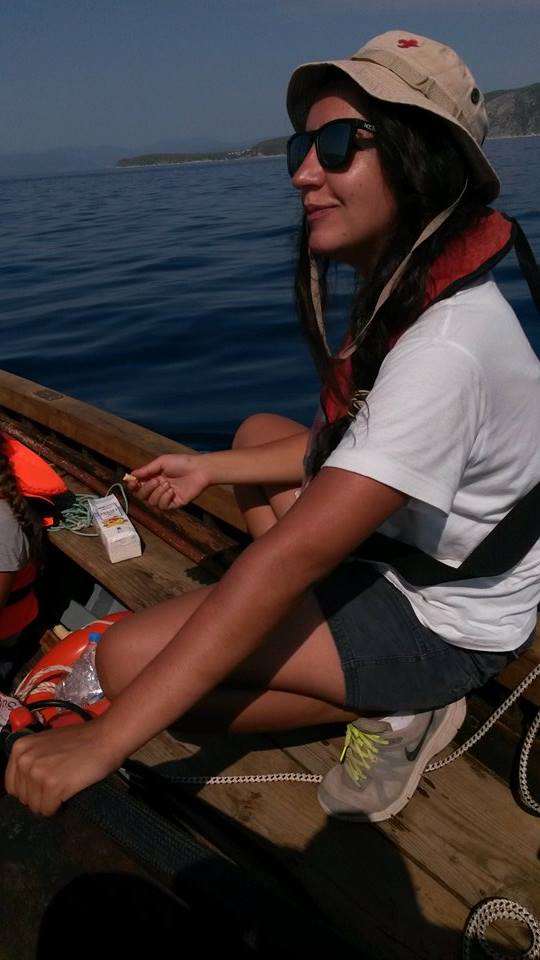 Jeannie was born in Australia and grew up in Greece. Her educational background begins with a bachelor degree in Marketing and Management of Tourism at National and Kapodestrian University of Athens. Her working experience in the corporate travel industry, as an energetic team leader, developed her skills to communicate effectively with people of all ages and backgrounds, to work collaboratively, to resolve problems, and to motivate team members to achieve personal and organizational objectives.
Jeannie was originally bitten by the "travel bug" as a teenager thanks to Scouts. She is a member of Scouts in Greece since 1999. Through numerous explorations in the Greek mainland, she gained, the ability to deal with new and unknown challenges and extensive knowledge on destinations in Greece.
Jeannie loves sharing tips that turn a simple vacation into a fantastic journey. If you share our passion for iconic landscapes and seascapes, traditional culture and inspirational nature, join us on our explorations!